Tor Wiki
The Tor Wiki
 About Dark Web Links And Hidden Wiki Sites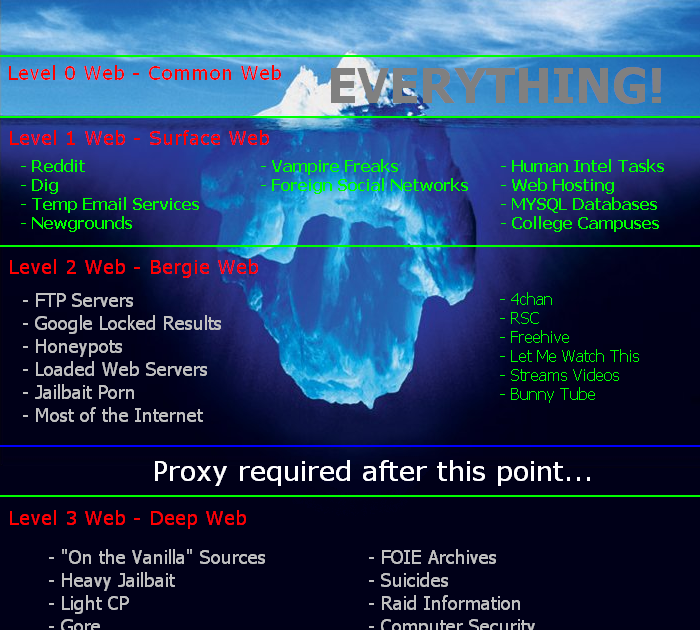 Most internet users perceive the dark web as a place where no one can transact legal business. The dark web is seen as a shady place where injustice, illegality, and criminality is the order of the day. To some extent, this mindset may be harmless and right, but then it is not everyone on the dark web that is a criminal element. Most people find it difficult to believe the fact that the dark web can be used for something that will benefit all and sundry.
One thing we all need to understand is that the dark web is no different than the clearnet. The thin line between the two is privacy. The clearnet is not private, and as such, you can be traced, tracked, and even your location can be pinpointed. Google stores all information about you, and so you live in a free world where everyone sees what you do. The dark web is just the opposite. Search engines do not track or store your activities online, you are connected to networks but surfing privately without any browser history. Your location cannot be tracked or traced, and so on. You are anonymous online.
This article is about social media links in the dark web. Websites like Facebook and twitter of the clearnet are also available in the dark web for people to use anonymously and have fun. No crime, no illegal stuff, and no criminality involved.
1. DIASPORA (7qzmtqy2itl7dwuu .onion)
Diaspora is a social media platform in the dark web that operates just like Facebook. The difference between the two is in the fact that Diaspora does not use your data to send you advertisements as Facebook does. This social media site does not profit from your saved data on its website. You need to register to use Diaspora, but then you are not required to make use of any of your real information. You can easily stay anonymous by taking up another identity that is not your own. Diaspora is JavaScript-based, so you need to enable JavaScript on your browser to make use of the site.
2. OURBOOK (occ4c3gx3w5esnmnnetwork .onion)
Ourbook is a dark web social network site that is fully distributed. Ourbook uses online routing for its P2P social network. This site allows users from all over the world (As you do not need to sign up with your real identities nor real country name as well). To make use of the network site, you need to download the Ourbook app, then register and then log in.
3. TOTOZ.EU (totozzimg6zbvthl .onion)
Totoz.eu is also another perfect Facebook replica in the dark web. It is one of the most popular social media sites in the dark web. The first thing to do is to register on the site, log in to your account, and start chatting and messaging friends you make on Totoz.eu. The features are more like Facebook, but then there is the privacy that Facebook does not offer.
4. MIDDLE EART HOBBIT (mango7ujh3rmxgoh .onion)
Creating an account with Middle Earth Hobbit's social network in the dark web may take some time to process, but then it is a perfect social media website for people on the dark web. You will see a "need an account" button at the top of their website, which you can click on to register a free account.
5. TWITTER CLONE (npdaaf3s3f2xrmlo .onion)
TwitterClone is just as the name implies. TwitterClone is the dark web twitter alternative. It works exactly the way the clearnet twitter social media works. You post less than 200 words per post or status, and it just your micro-blog.
6. SECURESHARE (secushare.cheettyiapsyciew .onion)
SecureShare is a social media platform that is built to be an all-in-all for social media lovers. What I mean by this is that you have the likes of features of Whatsapp, Facebook, Gmail, Skype, Twitter, Instagram, and so on, all in just one single site. Facebook on the clearnet is trying to integrate these features buy purchasing the WhatsApp app, but then this site in the dark web already has everything you need in just one place as far as social media is concerned. Log on to the website to check out the fantastic features available thereon.
These six websites are the popular social media links in the dark web. There are so many more websites that offer social media features, but then this article will keep getting long if I decide to keep up with all the list of sites in the dark web that is in the social media category.
**BLACKBOOK
It is worthy to note that there used to be a social media site in the dark web that is a full Facebook clone. Black book did make a wave when it was first introduced in the dark web. Blackbook worked in the same way Facebook does; in fact, the front page is just the same as that of Facebook. The site was famous for the little time it was available because, in 2017, Blackbook was hacked and has since yet to be recovered. I have decided to separate this from the remaining top six in this article simply because the site no longer works. There are several other dark web social media sites that used to exits but are no longer operational; the likes of  Galaxy, which was floated in 2013, is no longer operating as well.
Always remember that the dark web is the dark web, and even if you are visiting a safe site (so to say), you still need to take care. Also, on the clearnet, one needs to be careful not to get scammed, let alone in the dark web. Always connect through the Tor browser and increase your anonymity by using a good VPN alongside the Tor browser. Close all applications before accessing the dark web and ensure NEVER to sign up for anything in the dark web using your real email account address and your real information.
More links coming soon after our 2020 site update is finished.